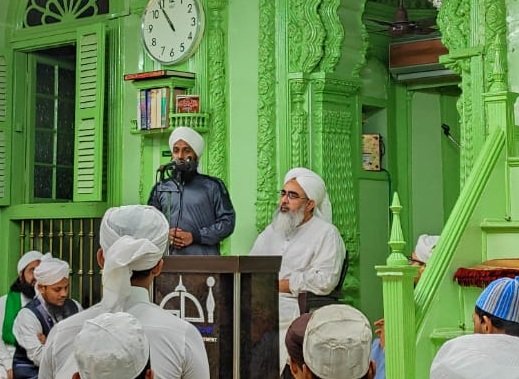 Our History
About Sunni Dawate Islami
Sunni Dawate Islami is an international, non-political and purely socio-religious movement. It promotes the propagation of the true beliefs of Islam under the teaching of the true sect of Ahle Sunnah Wa Jama'ah,Through encouraging the blessed Sunnahs of the Beloved Messenger (Peace and Blessings be upon them) it aims to light the beacon of love.
To inspire a believer to remain steadfast in fulfilling the commands of Allah, the Almighty & to shine as a true, humble and obedient devotee of the Beloved Prophet (Peace & Blessings of Allah Be upon Him) by providing educational, spiritual & counselling assistance to the entire community.
Sunni Dawate Islami envisions an environment of love, understanding, peace and harmony on the entire planet, through the propagation of the true beauty of Islam, as taught in the Glorious Quran & traditions of the Holy Prophet (Peace & Blessings of Allah Be upon Him).
Daai e Kabeer, Ata e Huzoor Mufti e Aazam e Hind, Waqare Ahle Sunnat,
Hafiz o Qari Allama Wa Maulana Muhammed Shakir Noorie Sahab Qibla
(Ameer E Sunni Dawate Islami)
Born in Junagadh town of Gujarat State in India, Maulana Muhammed Shakir Noorie comes from a humble family background and has completed his education with memorization of the Holy Quran & its recitation, learning Islamic sciences and Ulooms relating to the Sunnah of the Holy Prophet Muhammed Swallalahu alaihi wa sallam. He has been lucky to have the chances of spending valuable times in the company of several pious & blessed friends of Allah, of his times, through whose blessings and guidance, today he rose as a mentor to several people with titles of "Ataa e Huzoor Mufti e Azam e Hind" and "Daaiye Kabeer".